Changing your view of dentistry in Seattle, WA.
Find real relief from dental anxiety with our sedation options in our spa-like office.
If going to the dentist makes you anxious or scared, you are not alone. Dental fears are very common and, here at Innovative Dentistry, we genuinely enjoy helping individuals overcome their dental anxiety and truly enjoy their visits.
Rest assured, we will not judge the condition of your teeth and gums. We're here to help you achieve the smile you've always wanted!
The first thing we will do is to listen and ask:
Together we will decide what treatment is needed and how we can best help you through your dental visits.
Making your dental appointment painless and comfortable.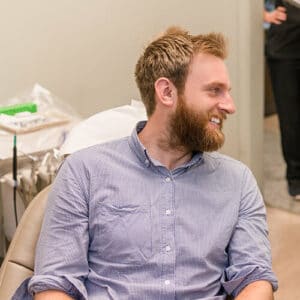 Nitrous oxide is provided through a nose hood and is administered throughout the entire procedure. Nitrous oxide elevates the general mood and can evoke an overall sense of well-being. Most importantly, it relieves anxiety and reduces pain during the procedure. You are able to drive yourself to and from each appointment when nitrous oxide is used.
Oral medication is provided prior to treatment, and then nitrous oxide is added to induce a more profound state of sedation. You are still "awake," but your senses are dulled. This means that most patients cannot remember the pain, smells, or noises associated with the dental procedure. You will need a driver to and from the appointment when oral medication is used.
Patients who have previously experienced IV sedation report feeling like they slept through the entire procedure. A treatment taking several hours will feel like minutes when you are sedated. This type of sedation is typically used for longer procedures or more complicated oral surgeries, but can also be used for simple fillings or even cleanings. You will need a driver to and from the appointment with IV sedation.
Awesome team that makes you feel comfortable and provides a high quality service. I highly recommend Innovative Dentistry.

James Healey
18:35 10 Nov 22
As a first time patient, this dentistry really exceeded my expectations. It was clean and comfortable, and I appreciated the good wait time! My dentist, Dr. Sharma did a great job at making sure I felt comfortable and calmed my nerves throughout my session. I also appreciated the fee & payment transparency and the opportunity to think about making a decision before committing to a new appointment.

Aida Amirul
16:49 09 Nov 22
First rate care and a warm and friendly staff has kept me a client for years.

bibs15NY T
16:09 09 Nov 22
Casey, my dental hygienist, was very professional and thorough. My teeth have never felt cleaner! Dr. Lau is personal and, in my opinion, an expert in his field. He is great at putting his patients at ease.

Dean Fowls
01:17 09 Nov 22
Friendly, efficient, care-ful, and helpful.

Jordan Posamentier
19:26 08 Nov 22

jared metschke
00:17 04 Nov 22
Dr. Tobler is very professional, patient and listens very carefully. He answered all my questions and provided excellent service and advice. I would definitely recommend him to anyone. The staff are likewise professional, caring, and will do everything they can to accommodate you during your visit.

Patrick Cory
04:56 03 Nov 22
I have been using innovative dentistry for 6 years for cleaning and treatments. Solid dental skills and first time crown fits every time. Very detailed and consistent with procedures. Casey hygienist is highly skilled professional and keeps the experience fun.

Gary Macon
18:30 27 Oct 22
I have been going to Innovative Dentistry for over 25 years. The staff is great. Mary has been my hygienist for most of those years I have been their patient. She is outstanding and when I have been treated by other hygienists they have been great as well. I highly recommend Innovative Dentistry.

Jeffrey Byrd
02:53 15 Sep 22
I moved to the city in March 2020 and have come about 4 times now twice a year. Dr. Lau is super cool and friendly and I have been having Kevin as my hygienist. I haven't had any issues and have even had my son start coming here and he enjoyed it as well as a tween.

Taraneh Moll
10:33 23 Aug 22
I moved here to WA a month ago and needed to see a dentist for some concerns I had prior to my visit. Innovative dentistry treated me so well. Alecia was my hygienist and took a lot of time listening to my many many questions. I've never had a dentistry that took the amount of time with me that I really needed to ease my mind and my nerves I had coming into the visit. Alecia gathered my questions perfectly for doctor Sharma to address. When I met doctor Sharma, she went through EVERY question I had with great detail. She took her time and did not rush through my visit like most dentist have done with me in the past, and I know I am difficult when it comes to all my thoughts I needed to address for myself to calm my nerves with my teeth and some habits I have when it comes to them. I trust doctor Sharma with my teeth and I thank her for having the patience to deal with my many concerns and difficult nature when it comes to these things. The front desk staff is amazing and so kind. Sorigiah, was the first person to help me when I initially called to make my appointment. I had called many offices and she took the most time listening to why I wanted to make the appointment and she made sure I had enough time for my visit to feel comfortable once I left. She is the last person you see when you leave and she is always so genuinely nice and makes sure you have the appointment you need for the future. I have to say I'm so incredibly impressed by the genuine care they give you. Thank you so much Innovative Dentistry! I'm so happy I found a place that I would recommend to family and friends. Thank you for treating me so well with all my concerns! And I look forward to seeing them again for my future visits!

I have had a great experience on each of my visits. All of the staff as well as the dentist at this office that I have had the pleasure of interacting with have been friendly and professional at the same time. They made me feel comfortable during procedures and took the time to go over the details of the treatment whenever I had any questions. Also doesn't hurt that you could watch TV while having work done on your teeth should you choose to distract yourself that way.

Adi Daryanani
18:11 18 May 22
I've been a patient for 3 years and have loved my experience! The staff has always been so kind and pleasant and they've taken great care of my smile! I highly recommend it 🙂

Simone Thomas
18:07 15 Jul 21
Very professional experienced and friendly

Mahmoud Mahran
23:41 05 Aug 20
I was refereed to Innovative by multiple co-workers. I've had an excellent experience over the last year with Dr. Subherwal. The entire staff is very personable and friendly. I strongly recommend giving them a chance!

Absolutely love the service here. ❤️ Everyone is super nice and professional. The building and offices are spotless and the folks her know what they are doing. Highly recommend.

Very friendly, accommodating staff and dentists. They're great about providing details on pricing, sending reminders, and getting you in and out quickly. I've been a patient for overt 10 years.

Kristen Holway
19:02 19 Jun 19
It's clean, the atmosphere is surprisingly cozy, and everyone is incredibly welcoming and makes you feel really comfortable. Megan is such a great conversationalist and makes appointments fly by! Unfortunately, Humphrey the therapy dog doesn't work there anymore though 🙁

Erin Zingré
00:25 17 May 19
I've always had a very good experience at this clinic. All of the staff is very friendly and attentive.

Roberto Araiza
03:21 03 May 19
Very friendly staff, transparent pricing, and convenient location. By far my best experience with a dentist.

Stephen Selke
20:24 09 Apr 19
The staff is great and they make the experience enjoyable. They take a lot of pride in the small touchpoints and details. Thanks for all you do!

Ryan van Maarth
21:30 12 Dec 18
I'be going to Innovative Dentist for 3 years now. They are very professional and have great customer service. Everyone calls you by the name and explain the treatment options with details.

Guilherme Castro
14:52 25 Oct 18
Everyone at Innovative Dentistry are super friendly. They provide exceptional care to patients and are very honest and transparent about the patients conditions. I would recommend Innovative Dentistry to any one.

Timothy Cheng
18:01 16 Oct 18
I've been going here for two years now and every visit has been great. The staff is always very friendly and accommodating. I no longer dread going to the dentist!

Austin McShane
23:13 03 Oct 18
Very polite and friendly staff. Special thank you to Edie, who was very friendly and patient with my x-rays. Straightforward team of professionals and I am extremely happy with using their services .

Alcie Arora
20:07 17 May 18
This Dentist office is excellent. I had gone to another dentist in the city and they suggested I schedule multiple filling replacements, which was surprising... I made an appointment at Innovative and they said those were unnecessary. The staff is incredibly professional and thorough. Highly recommend!

Kate Morris
22:59 06 Dec 17
It's wonderful place, staff are very helpful. They share all required details transparently.

pavan kumar nanduri
18:10 13 Nov 17
I have been going here for 4 or 5 years now. I've always had a good experience with every dental hygienist. Very friendly and competent at their work.

Nicholas Lavin
19:57 02 Aug 17
Super friendly and very competent people! 🙂

Anta Imata Safo
01:59 28 Jul 17
Innovative Dentistry and their staff are amazing. My wife has always been terrified of the dentist and she thinks they are great. They give attentive, personal care and treat their patients well.

Vitus Pelsey
01:09 20 Jul 17
Friendly and knowledgeable dentists and hygienists. Convenient location.

Craig Schindewolf
19:17 14 Jul 17
All members of the office go above and beyond in terms of customer service. They are extremely friendly, flexible with scheduling and payments, and take their time with patients. Dr. Tremblay wants the BEST for his patients and he shows that by taking his time explaining everything, checking for any issues, and expecting perfect results from products ordered from third parties for his patients. I experienced a miscommunication with regards to a balance due, and the office manager and Dr. Tremblay took it upon themselves to take care of the entire charge due to the confusion and inconvenience caused. I will continue to go to Dr. Tremblay for as long as I live in Seattle, and will do my best to always refer people to his office! Such great experiences!

Laurel Davidson
17:10 08 Jun 17
The staff is beyond friendly and super diligent. Dr. Tremblay is meticulous in his work, always making sure everything is perfect before I get out of the chair. Moreover, he shows genuine concern for both my comfort during procedures and satisfaction with the outcome. This is by far the best dental practice I have ever been to.

Al Taveras
08:20 08 Jun 17
I have only received excellent care here. The staff are friendly and professional, plus they really care about your comfort and the integrity of your teeth. They're open and honest about what your mouth needs to be healthy and I've never felt pressured into paying for anything extraneous (I've actually been discouraged from seeking out cosmetic treatments). I wholeheartedly recommend them to anyone who is either afraid of the dentist or just wants the best for their teeth!

Katie Graham
23:42 05 Jun 17
Great experience. Everyone is very kind, but still motivating me to do my best at brushing and flossing. They've always done great for me.

Chris Pleasants
15:42 05 Jun 17
I've always had a wonderful experience at Innovative Dentistry! The office is clean, modern, and offers a variety of services outside of my regular cleanings. I would recommend to anyone looking for a dentist in the SLU neighborhood!

Chika Uchendu
14:45 05 Jun 17
Been going here for #years! Near work and home for me, but keep coming back because the knowledgeable staff cares about helping me achieve my goals, has the latest and greatest treatment options, and navigates dental insurance like pros! Three thumbs up!

Kerry Meline
22:56 24 May 17
Mary is fantastic!! Always on time, friendly and thorough! Great facility and friendly staff.

Thanks Innovative Dentistry (Dr. Subherwal, Sorigiah, Mary, Alecia and Hannah!) for an amazing experience! I'll be sad to leave you since I am moving. Greatly appreciate the wonderful care and service you always provided me!

Kate Bailey
01:37 24 May 17
I had a great experience getting my teeth cleaned at Innovative dentistry. I would personally recommend Meagan, she is knowledgeable and makes sure you are feeling comfortable throughout your entire visit.

Megan did a very good job in cleaning my teeth painlessly! She is the best!

I had a great experience with everyone I interacted with in my multiple visits: receptionists, dental assistants, my dental hygienist Crystal and of course Dr. Subherwal. Thorough explanations, follow ups and an excellent job done. You'll be in great hands here, highly recommended and couldn't be happier 🙂

Babak Habibi
17:37 17 May 17
I've been a patient here for many years. I find the staff pleasant, professional, and effective. My hygienist, Nancy, consistently delivers the best dental hygiene experience I have ever had.Ever.I regularly recommend them to anyone looking for dental care, and I've never heard anything negative back. I really don't know what else I can say.

Adam Johnson
01:01 13 May 17
I highly recommend this office! Everyone is super nice and professional from the ladies at the front desk to the hygienists, assistants and doctors. Everyone knows you on a first name basis and are very friendly. I frequently come into the office for my Invisaligns and Dr. Subherwal has been such a great doctor. She is very attentive, provides quality work and only wants the best outcome for me. As for my regular check up visits, everyone makes you feel very comfortable. They offer a blanket, pillow, beverages and also has a therapy dog for anyone feeling nervous. I also love that they provide you fresh baked cookies on or near your birthday. I always feel that I'm receiving excellent care every time I come in 🙂

Fantastic!!!!!! Dr Danny Tremblay did a great job on my teeth. 6 veneers and 2 crowns.

Mary Herzner
16:47 09 May 17
Every one here is so friendly and helpful. I have never had such detailed information about my dental care. Everyone is very professional and they care about the people who use their services.I would highly recommend them.

Wonderful staff, very friendly and engaging with great attitudes. Had my first fillings ever there and they took every precaution to make it a pain free experience. Couldn't recommend higher!

Luke Roskowinski
22:08 04 May 17
Been here a few times already. They address every question or concern I have. The only dental office for me in Seattle.

Vishak Menon
19:27 29 Aug 16
As a kid, I moved a lot, so I often found myself going to a new dentist every year. Now 27-years old, I can say I've been to different providers across the country including IN, PA, OH, SC, AL, AR, and TN. Without a doubt, Innovative Dentistry is the best dental office I have ever visited! My new patient appointment was extremely thorough (90 minutes). They took x-rays and photographs of my teeth and provided great patient education. They showed me each of my teeth on a monitor and used a model to explain complicated concepts.I ended up having some cavities filled and a crown put it. Both procedures went smoothly and painlessly. In the past, some dentists have struggled to numb my mouth before fillings, but the dentist here gave me one shot with no problems at all. When I was nervous about having the crown put it, they offered me a bunch of different options to relax including a warm neck pillow, weighted blanket, therapy dog, music, and lavender scented wash clothes.The company is technologically savvy and transparent with their costs. They send email and text message appointment reminders, and you can fill out your new patient forms on their website. They also communicate with your insurance company for you, to figure out the costs of all procedures. They take the time to review all potential expenses so that you can make an informed decision about what you want to do. I had never gone to a dental office that was so transparent about costs.The entire dental team was professional, knowledgeable, and friendly. The dental hygienist who cleaned my teeth was highly educated and was clearly an expert on gum health. The dental assistants who aided the dentist during my procedures were right on point the whole time. The entire team was clearly well chosen. They made my experience exemplary.

Mav DeCapua
17:11 23 Feb 16
Beyond a doubt, the best dental office EVER! From the professional and friendly staff, to the excellence of the doctors and hygeinists, it does not get any better. As a person who has feared going to the dentist, they have taken extrodinary care of me and my family. Humphrey The Therapy Dog, is my hero!

monica johnson
18:52 16 Sep 15
I'm one of those strange people that has always loved going to the dentist. Specifically I love to get my teeth cleaned and come out feeling oh so fresh and clean. I thought that was as good as it gets at any dentist's office.Not at Innovative Dentistry.Not only is the dental service they provide excellent - thorough, effective and efficient - they are also amazing at making you feel extremely cozy and comfortable with their warmed neck pillows, tea and also fresh baked cookies if it's close to your birthday.Their staff is always so kind and welcoming. And that includes everyone from the Doc to the lovely Ladies at the front desk.Cheers to Innovative at SLU!

Aarthi Sekar
23:28 11 Feb 15
Staff at Innovative dentistry is great. They are always accommodating and will work with you if you have any change of plans. Dr. O'Connor is very good and listen to his patients and solve the problem. They have an awesome therapy dog too. He is pretty friendly.

Sandeep Mukherjee
15:26 19 May 14
Innovative Dentistry is out of doubt one of the most amazing practices! I went to lots of practices in my life, in different countries but I've never met this high level of professionalism. They really take care about every patient personally and not just the usual way. I have the most horrible gag reflex and they figured out all the things which could make the treatments easier for me. The staff is amazing, I feel like family when I go there. They make me feel relaxed and I never felt how much trouble I cause with my bad level of gag tolerance. I was treated by Dr. Berman and Dr. O'Connor as well and they were both amazing, patient and on the top of their profession. I never had a doubt since I picked them that I'm in the best possible hands. I recommend the Innovative Dentistry with all my heart!:)

Annamaria Taskai
22:23 12 May 14
I recently had a large amount of dental work completed by Innovative Dentistry and can't say enough about the work and care I received. Following a 15 year hiatus from dental care, there was much to catch up on and not only did they take care of the emergent physical needs, they also addressed cosmetic issues I had conceded to for 30+ years and worked through my anxiety of "the chair". What topped the entire experience off was the end of the day check-in call from my dentist to see how I was after my first major visit. Please visit this team. They made it about me and that's what it's about.

Brent Martin
17:46 14 Apr 14
Overcome your dental fears
Relax in our dental office and uncover the benefits of sedation dentistry.